Contact and Feedback
Contact Info Author - Webmaster
Ivo
Vynckier
As technical writer, I worked for an OCR company for 15 years. (Today, only three major OCR companies, including my former employer I.R.I.S., remain in business.)
I.R.I.S.' history is documented in detail in "The IRIS Book" by Pierre De Muelenaere, the company's founder and former CEO and president.
Click the image below to like my Instagram post or comment on it.

Pierre De Muelenaere
"The IRIS Book"
A 33 Years' Story on Entrepreneurship from Belgium and What You Can Learn from It
Editions Pygargue International, 2018
ISBN 2960196201
I reprise the text of my book review on Instagram here.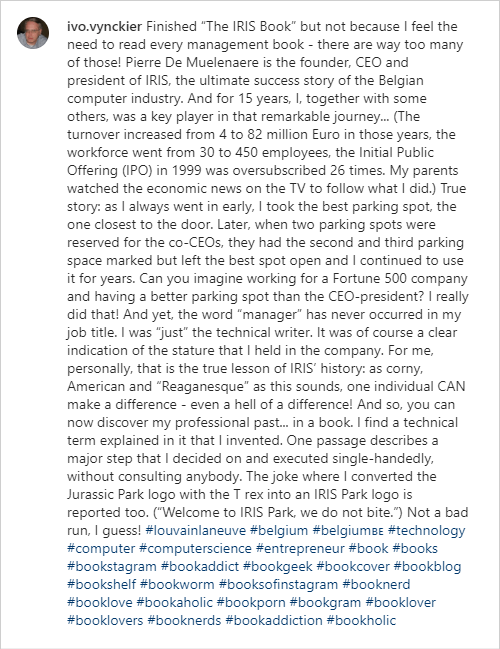 This is the second web site I wrote and developed with the source code editor Notepad++.
Follow Ivo Vynckier on Pinterest
---
Feedback Form
Fill out the form to submit your feedback.
You can do so anonymously by leaving the (optional) contact info blank.
Privacy
This web does not use cookies or track you in any other way.
Copyrights
Some graphic material in the section Meet ERMA! of the MICR page was kindly supplied by the SMECC and Ed Thelen.