Scene 1 (2:57-4:30): The True Story of a Real Fake
Welcome to the Steal!
"Catch Me If You Can" is the story of Frank Abagnale, who was widely recognized as the best con artist, check forger, impostor and escape artist in American history.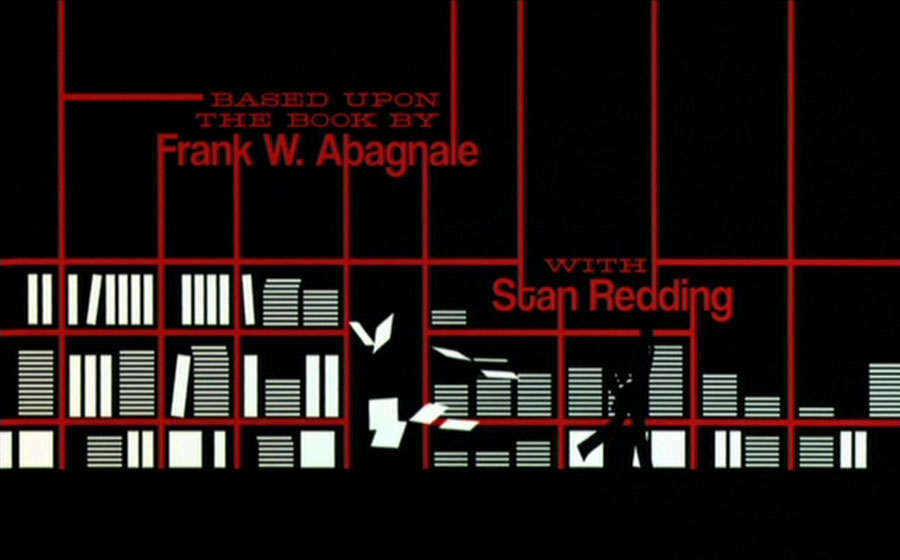 Scene 1 — 2:00
As his identity was unknown for a long period of time, the "unsub" (an "unknown subject" in F.B.I. speak, also called a "John Doe") was called the "Skywayman" by the law and the press, because of his posing as an airline pilot. (In scene 11, Abagnale meets a Pan Am P.R. guy. He's nervous, jumpy because there's another piece about the "Skywayman" in the New York Times...)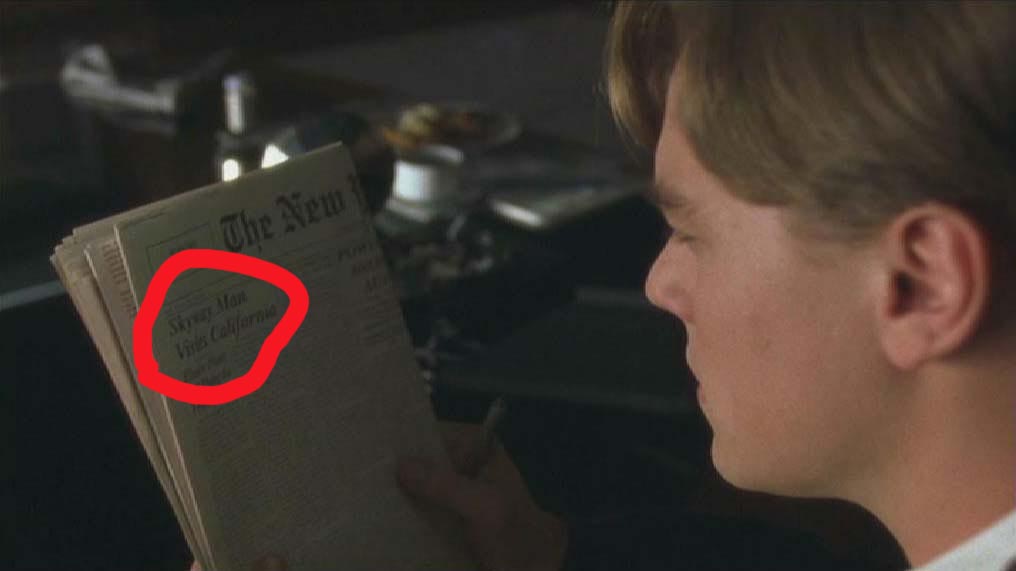 Scene 11 — 55:09
Abagnale himself puts it like this: "I had enjoyed a misguided and regrettable run as one of the most successful con artists the world has ever known. [...] The New York Times, in its coverage, referred to me as 'The Great Impostor'." (book "The Art of the Steal", page 6)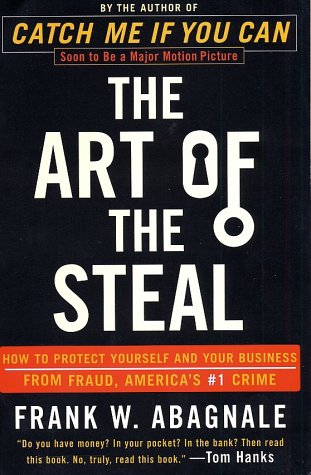 Frank W. Abagnale
"The Art of the Steal"
How to Protect Yourself and Your Business from Fraud, America's #1 Crime
Broadway Books, 2001
ISBN 0767906845
In his book "Stealing Your Life", he calls his criminal career a "foolish teenage infatuation with perpetuating swindles" (page 12).
Or still: "My escape [from an Atlanta prison] made the front page of one New York paper, 'Frank Abagnale, known to police the world over [...] and who once flushed himself down an airline toilet to elude officers, is at large again…' the story commenced." (book "Catch Me If You Can", page 204)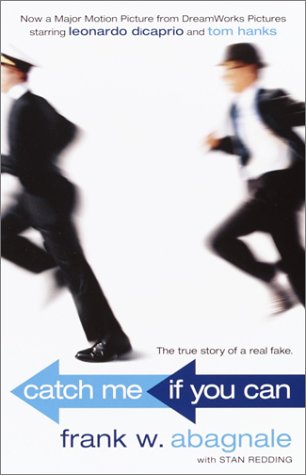 Frank W. Abagnale (with Stan Redding)
"Catch Me If You Can"
Mainstream Publishing, 2003
ISBN 1840187166
The former police chief of Houston once said of me: "Frank Abagnale could write a check on toilet paper, drawn on the Confederate States Treasury, sign it 'U.R. Hooked' and cash it at any bank in town, using a Hong Kong driver's licence for identification." (book "Catch Me If You Can", page 91)
(Nowadays, some banks require all non-customers — people that don't have an account with them — that come in to cash a check to leave their fingerprints in ink on the check. When somebody objects, the teller does not accept the check. According to F.B.I. statistics, this single security measure reduces check fraud instantly by 50%!)
Some extra info is found in Abagnale's white paper "Check Fraud and Identity Theft, Volume III" (2004) (page 2): "I had 50 legitimate driver's licences."
In the interview included in the 2003 edition of the book, Abagnale claims about 80% of the movie is accurate (book "Catch Me If You Can", page 214). In his foreword to "Catch Me If You Can — The Complete Screenplay" (page 8), he goes even further: "[...] 90% of the film is accurate. [...] the movie really captures my essence of the story."
Notice the movie's tagline, "The true story of a real fake"!
---
The Float
As a check forger, Frank Abagnale was an absolute master and a true innovator: he was the first forger to exploit the routing of checks as indicated through numbers on the codeline. This type of fraud is now called "the float".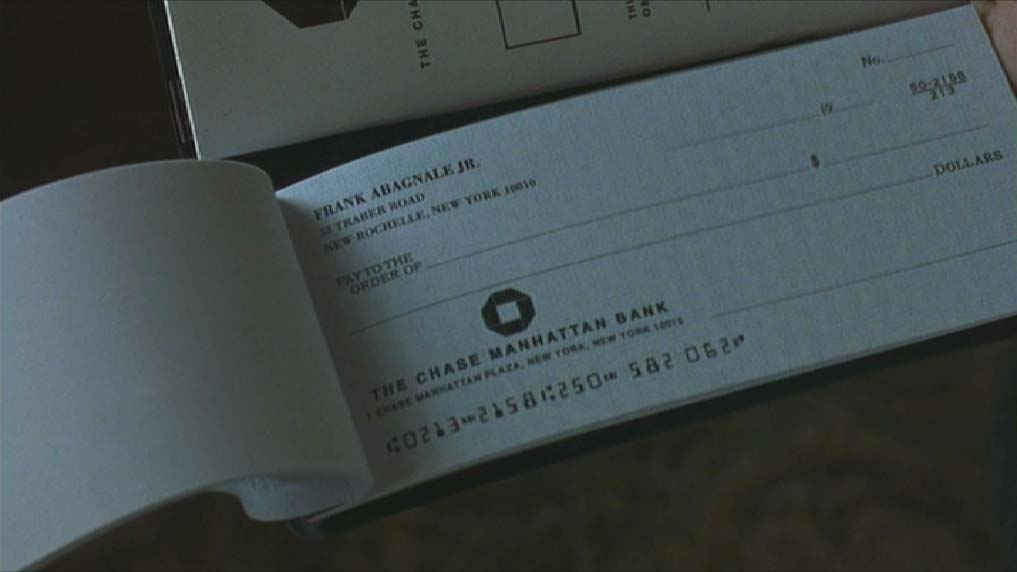 Scene 3 — 17:40
Says Abagnale: "What landed me in jail was my other habit, which was my enthusiasm for passing bad checks. The main reason I adopted those guises was to give me credibility when I cashed hot checks — and to satisfy my great taste for women. Hotel clerks and merchants didn't question pilots and doctors too closely. Through my various hustles, I passed something like $2.5 million worth of checks, a blizzard of paper that I scattered in earnest throughout all fifty states and twenty-six countries, all before I was legally allowed to drink. [The legal drinking age in the U.S. is 21.] I was proficient enough at cashing fraudulent checks that I earned the distinction of becoming one of the most hunted criminals by the F.B.I." (book "The Art of the Steal", page 6).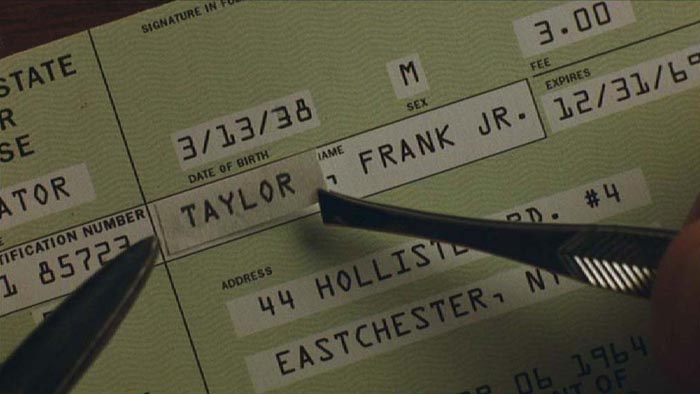 Scene 6 — 29:18
Abagnale used a number of aliases — he reportedly used 8 identities, basically variations such as Frank Adams, Dr. Frank Conners, Frank Williams, Robert Black, Robert Conrad and Robert Monjo. In the movie, he uses the aliases Frank Black, Frank Roberts and Frank Taylor. (Incidentally, Frank Taylor is also the name of the first pilot to get off the spaceship in "Close Encounters of the Third Kind"!) For instance, during Abagnale's aborted engagement party — he's known to the family as Dr. Conners —, he admits to his fiancée Brenda Strong that he uses the aliases Frank Black and Frank Taylor when he's traveling (scene 16, 1:36:12).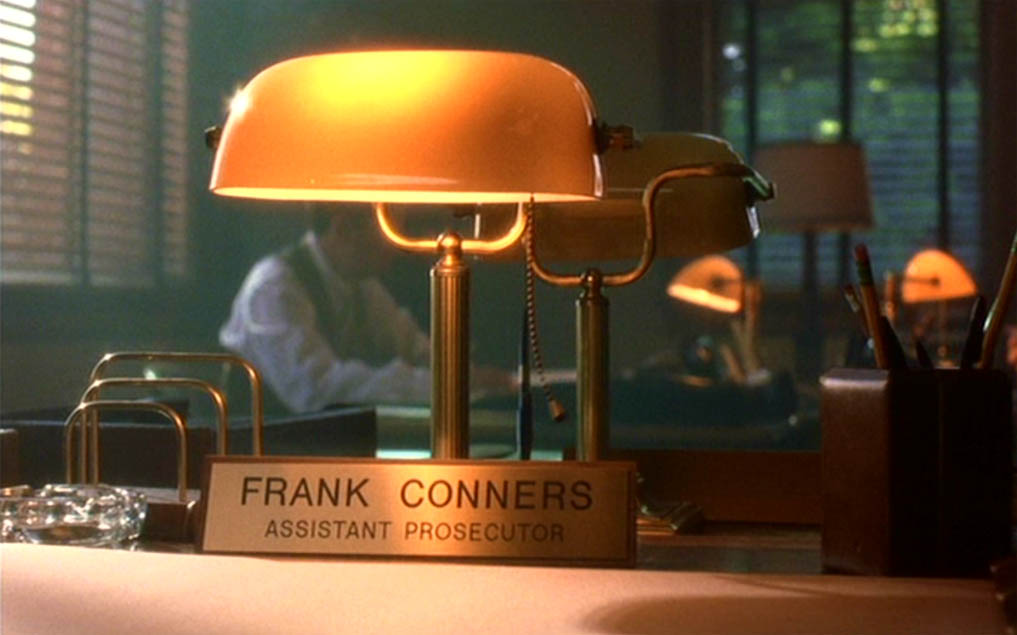 Scene 14 — 1:25:47
---
The Basics: To Tell the Truth… on TV
In 1977, Abagnale appears on a TV show called "To Tell the Truth" to tell his amazing story. This TV quiz has a simple formula: three friends play the same character, people have to guess which of the three is for real.
Abagnale did appear on that program, here's the picture (signed by Abagnale!) that proves it. He's the pilot in the middle. Here, one "impostor" is dressed as doctor, the second as pilot and the third as inmate.)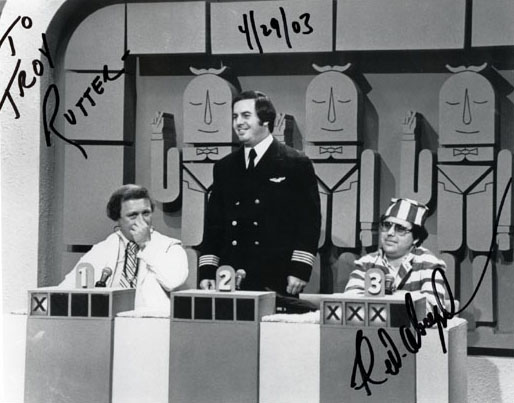 Not only that, Abagnale decided to write up a book about his life after he'd gone on another TV show, the famous "Tonight Show" with Johnny Carson (later presented by Jay Leno and now by Jimmy Fallon). His segment was scheduled for six minutes, but went on for 20! The next day, hundreds of people called the broadcasting company to ask where they could buy the book. There wasn't any book to buy, but the many reactions gave Abagnale the idea to write one. (He could use the money because he was getting married at the time…)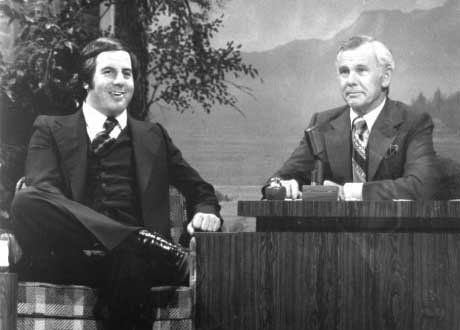 The book came out in 1980 with help from ghost writer Stan Redding and turned out to be a real success. Redding interviewed Abagnale for 4 days, 8 hours a day, then wrote the book on his own. A Houston Chronicle journalist, he also covered the low-key burial of JFK assassin Lee Harvey Oswald at the Rose Hill Cemetery in Forth Worth. Lacking pallbearers, seven reporters stepped in to carry Oswald's coffin. (The F.B.I. agent that caught Frank Abagnale — he's called Carl Hanratty in the movie but we reveal his true identity — spent a few days investigating the JFK murder in Chicago.)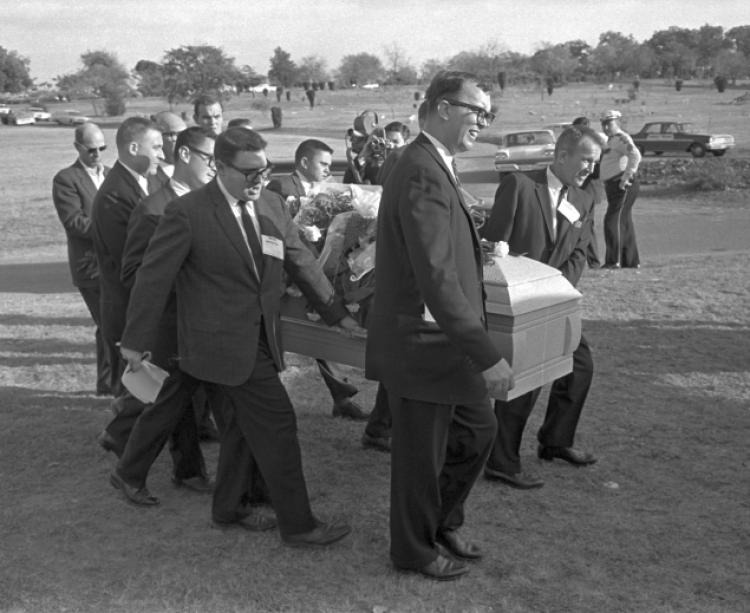 Abagnale's autobiography is regularly reprinted and available in some 30 languages. The movie rights were sold instantly, but it's only some 20 years down the road that Spielberg got involved.
(After Spielberg's movie grossed $352 million world-wide in movie theatres, a TV series and an eponymous musical followed.)
---
Frame Freeze: The Odyssey of a Movie
Abagnale has written the foreword of the book "Catch Me If You Can — the Complete Screenplay".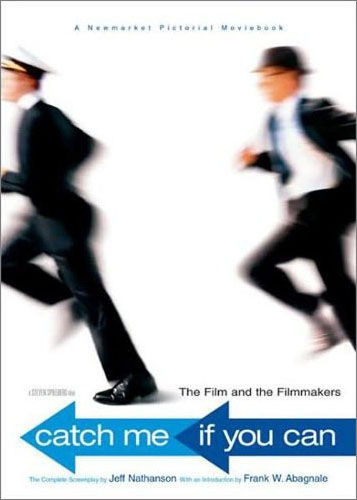 Jeff Nathanson
"Catch Me If You Can"
the complete screenplay with an introduction by Frank W. Abagnale
Newmarket Press, 2003
ISBN 1557045534
He provides lots of details in it on the tumultuous journey of the movie rights (page 7-13). Quoting pages and pages from a book exceeds "fair use" of source material, but let me summarize the journey of the movie:
Soon after his TV appearance, Hollywood showed interest in his story. He entered into a agreement — an option contract — with Bud Yorkin in 1978. After two years, Bud Yorkin told him he was no longer interested.
The next years, Columbia TV and Grosso-Jacobson optioned the movie rights.
Hall Bartlett optioned the movie rights in 1986 for four years. Tom Cruise, Eddie Murphy and David Hasselhoff were considered for the part.
After four years, Abagnale hoped to see the movie rights returned to him, but Bartlett paid the full purchase price ($250,000) for the movie rights. At this point, Abagnale lost all control and rights over the movie.
In 1990, an independant producer Michel Shane, bought the rights from Bartlett for $300,000. He optioned the movie to Hollywood Pictures, a division of Disney, who returned the rights to Shane after two years.
During the 1980s, the Coen brothers considered the project.
In 1994, Sony Tri-Star optioned the rights for one year.
In 1996, Barry Kemp and Bungalow 78 optioned the rights for two years.
It was Barry Kemp and his associate Devorah Moos-Hankin that took the project to Walter Parkes and Laurie McDonald, Spielberg's producers at SKG Dreamworks, then still a starting film studio. Halleluyah! (Moos-Hankin is credited as co-producer, Kemp as executive producer.)
---
Michael

Sabo

: A Sidetrack
One element isn't mentioned in this summary: according to some sources, Spielberg also considered another fraudster turned legitimate, Michael Sabo, to base the movie on his life. Which certainly was an option: Sabo was a check, bond and stock forger, he impersonated airline pilots with 6 carriers — Allegheny Airlines (later acquired by US Airways), American Airlines, Delta Air Lines, TWA (now part of American Airlines), United Airlines and US Airways) (now merged with American Airlines), — but, unlike Abagnale, took control of an Boeing 727 in flight.
He impersonated a doctor but, unlike Abagnale, took the risk of performing medical acts, handling the delivery of a baby. He posed as a Ph.D. and had over 100 different identities in total. To answer the next question: did he go on TV? He impersonated a doctor on a national TV program, "Unsolved Mysteries".
Sounds familiar already? He escaped from federal prison and stole over $10 million! And he blames… his parents for his criminal career: he feels his father's rejection caused him to take a wrong turn. (On his web site, he claims he went criminal in desparation to cover the medical bills of a girlfriend with breast cancer but without health insurance.) After 12 years in jail, he became the founder and executive director of Prison Consultants of America, a consultancy firm for white-collar crime.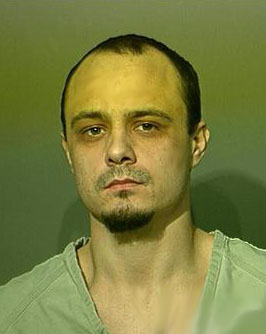 Sabo lecures and consults on identity theft, fraud etc. — same thing as Abagnale — but he mainly assists (first-time) white-collar, drugs and sex offenders to "navigate the complex prision system" as he puts it on his web site. And I don't see Abagnale doing that ever!
Elsewhere on his web site, you get the unvarnished truth: "Without understanding prison life, you could risk a 25-30% chance of getting killed, a 10-15% change of getting raped, a 30-40% chance of getting stabbed, a 80-90% chance of getting beaten." If we can avoid the knee-jerk reaction that they all deserve it anyway, this says a lot about the American prison system — The Shawshank Redemption, anyone? — and — once more — Frank Abagnale this is not.
Spielberg saw the score and quickly made the right choice. As for Michael Sabo, he was scamming from the 60s well into the 90s. (Abagnale's criminal career was over at the age of 21.) Sabo was a fugitive on the run when he should have seen the error of his ways and been available to sign a movie contract…
---
Truth or Fiction?
Scene 1 gives this info on Frank Abagnale.
None of which makes Abagnale a modern Robin Hood, as some naively think. Abagnale did not rob the rich — he stole from large companies, mainly banks, not the same thing! — and he certainly never distributed his loot among the poor. This is true: he did not steal from mom and pop stores and he never committed violence, it was all guile and cunning from a gentleman criminal!
He could do this because, as a kid, he looked 10 years older than he was. Says Abagnale: "It had always surprised people, especially women, to learn that I was still a teenager." (book "Catch Me If You Can", page 24) Here he is at the age of 16…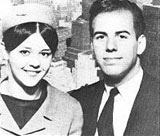 (Let me talk some more about film technique in passing: when agent Hanratty recognizes Frank Abagnale in a school yearbook (scene 12), Spielberg and his editor Michael Kahn make use of multiple jump cuts — a favorite style figure of Spielberg!)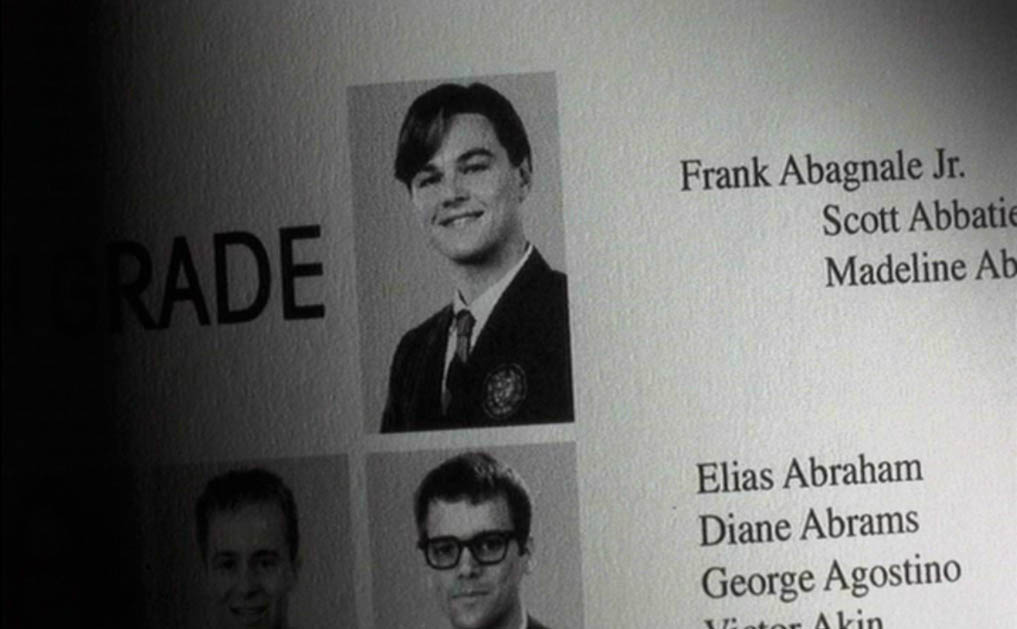 Scene 12 — 1:06:39
His fourth career was left out of the movie because of time constraints and because it didn't add any new elements. Indeed, Abagnale also handled a summer course as a sociology professor at the Brigham Young University in Utah. He was very well liked by his students, although he just read one chapter ahead of them every week. Having read in a local paper that Brigham Young was looking for sociology instructors, he forged a transcript (diploma) from the Columbia University (New York) for his interview with the dean. (book "Catch Me If You Can", page 86)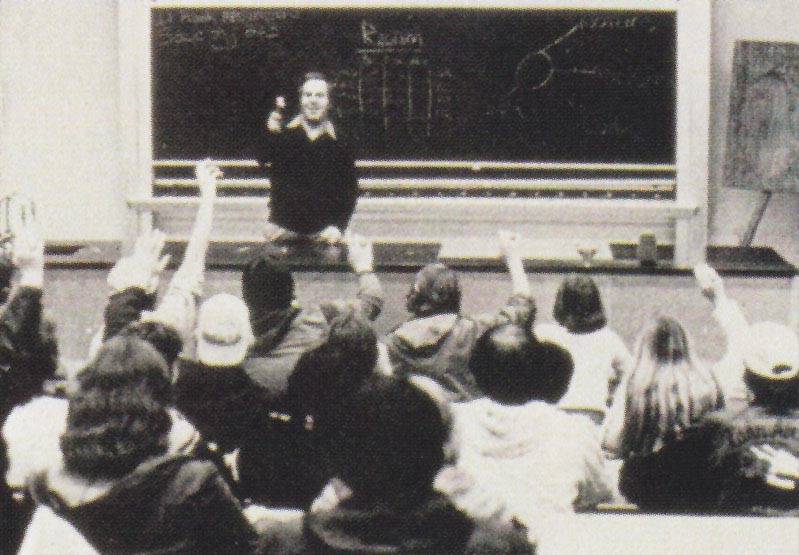 ---
When the truth becomes fiction, the con is a con…
OK. That's the Frank Abagnale story as we know it from the movie, his autobiography, his interviews and public talks etc. But things took a dramatic turn when the Irish historian Alan C. Logan's had a close look at Abagnale's life and published his findings in 2020, 18 years after the film's première. A very close look.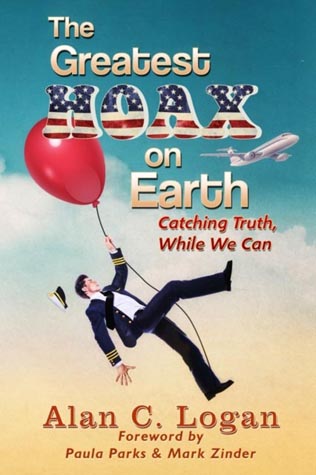 Alan C. Logan
"The Greatest Hoax on Earth – Catching Truth, While We Can"
Alan C. Logan, 2020
ISBN 1736197401
Drumrolls: Abagnale is not who he claims to be. As a youth, he was a criminal alright… but a small-time crook at best. Take away the glamour, the pilot mileage, the high-profile F.B.I. team that chased him. Logan speaks of "all foam, no beer, all icing, no cake." (The Greatest Hoax on Earth, page 319)
He was arrested several times — by local police! Nor was he an "ethical thief", a Robin Hood figure who only stole from large corporations, mainly banks. This book contains testimonies of small shop owners and private families that got ripped off. His former booking agent, Mark Zinder, the man who ultimately got Abagnale a spot on Johnny Carson's show and who took the photos of Abagnale in professional attire (with facial hair from the late 70s, not from the 60s), wrote a foreword.
"The real events […] mean that between the ages of sixteen and twenty, Abagnhale had virtually no opportunity to do laps around the globe with Pan Am, or any other airline, and become a millionaire writing bad checks. The F.B.I. was not chasing him. He wasn't working for nearly three years as a doctor, lawyer and professor. […] Essentially, Frank W. Abagnale was, for the most part, behind bars." (The Greatest Hoax on Earth, page 289)
Logan's book was meticulously researched; he provides plenty of police reports, mug shots etc. to debunk the stylish master criminal. Then again, Abagnale locked up the spiffy fraudster franchise conclusively, and you shouldn't expect him to respond to Logan's book ever. Way too much is at stake for him.
More importantly, Spielberg's movie was released in December 2002 and is therefore based on information available then. That also applies to this web site. It showcases how a book gets turned into a movie. Which material (available then) was dropped and altered to compress the con man story into a 2h 21m film? Which creative decisions turned that story, now proven false, into a fine Spielberg movie with John Williams music and Janusz Kaminski photography?