Frank Abagnale

, Posing as a Pilot
Scene 8 (37:00-40:23): Deadheading
It happened as you see in the movie: although Abagnale acted as a pilot, he didn't actually fly any planes, he just "deadheaded".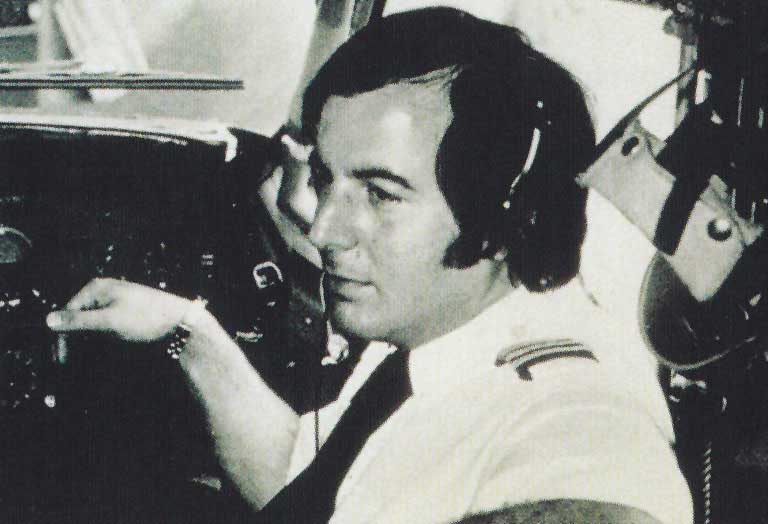 Abagnale explains the practice in his book "Catch Me If You Can" (on page 34) in a talk with another pilot.
"For example, if my boss told me tonight he wanted me in LA tomorrow to fly a trip out of there, I might fly out there on Delta, Eastern, TWA or any other carrier connecting with Los Angeles that could get me there on time. I would either occupy an empty passenger seat, or more likely, ride in the jump seat. That's a little fold-down seat in the cockpit, generally used by deadheading pilots, VIPs or FAA check riders." "Would you have to help fly the plane?" I quizzed. "Oh no," he replied. "I'd be on another company's carrier, you see. You might be offered a control seat as a courtesy, but I always decline."
Once, he took the controls but promptly flipped on the autopilot.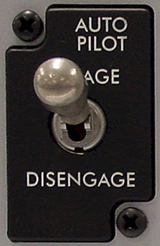 Pan Am's estimate was that Abagnale "deadheaded" on some 250 flights, flew over 1 million miles to 26 countries at their expense between the age of 16 and 18. When traveling, he stayed at hotels and had Pan Am even billed for his food.
The TWA stewardess Marci he seduces in the airplane is actress Ellen Pompeo of later "Grey's Anatomy" fame.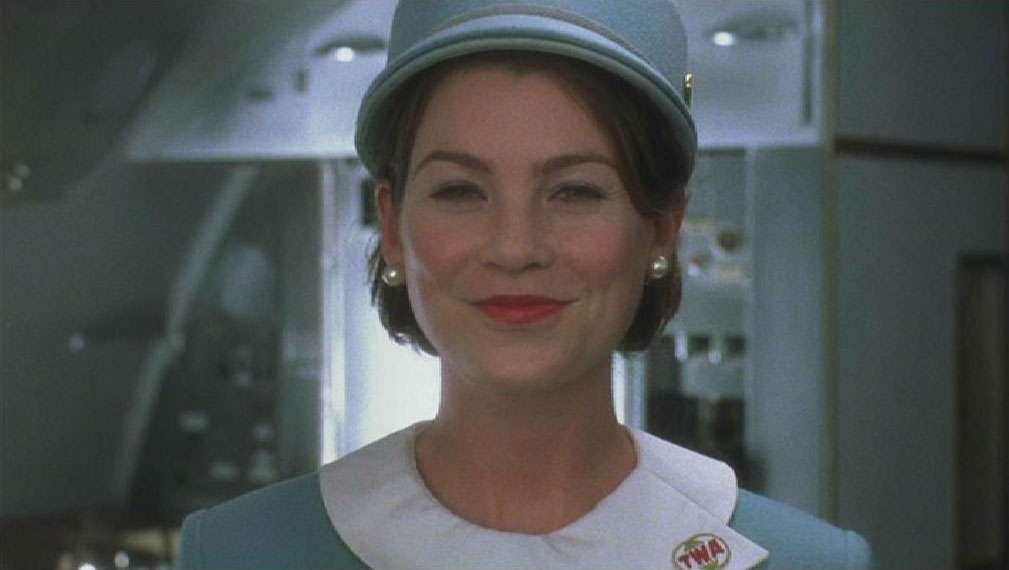 Scene 8 — 37:36
---
Scene 17 (1:39:16-1:45:17): The Pan Am Promo Tour
Abagnale really did go on a "promotional tour" (scene 17, 1:41:30-1:44:30) for Pan Am with 8 girls he had interviewed at a school and promised a shot at becoming a Pan Am stewardess. All expenses paid by Pan Am and some $300,000 extra pocketed by Abagnale with phony company expense checks. His book "Catch Me If You Can" describes the affair in detail on pages 140 to 157.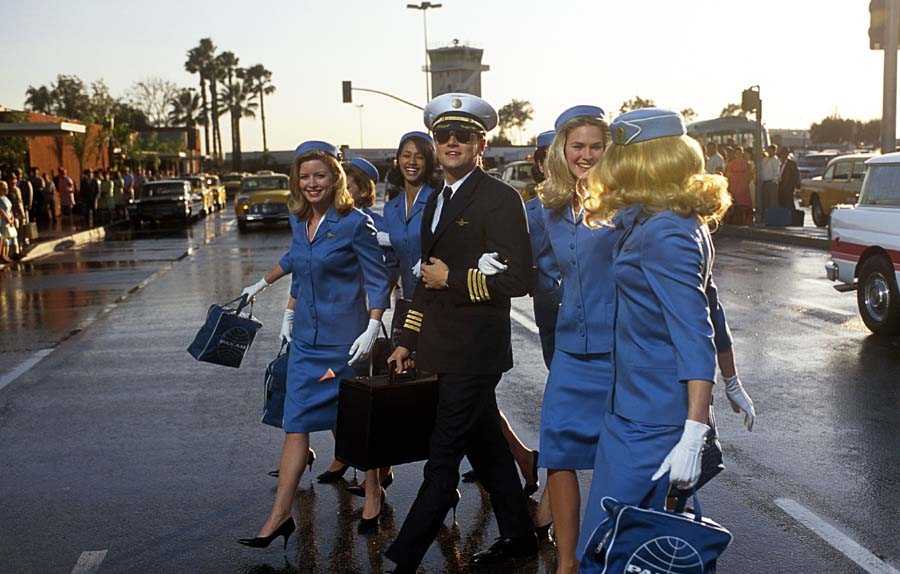 (This airport scene was shot at Ontario. That's not in Canada but to the East of Los Angeles, on the I-10. An abandoned terminal was refurbished to give it a 60s look!)
Hanratty-O'Riley got onto that scam too!
The girls did hear from Pan Am, as a matter of fact. After three months of a steady stream of photographs, from dozens of European cities and all showing the same eight girls in Pan Am stewardess costumes, advertising executives of Pan Am launched an investigation. Eventually, the entire matter ended up in O'Riley's hands and he deftly sorted it out and put it into focus for the carrier's officers and also for the girls.
I understand all eight of them took it gracefully, if with some vivid and descriptive language. (book "Catch Me If You Can", page 157)
Ouch! We'll leave that kind of language for the HBO series "Deadwood", shall we?
Then again, even this story has a happy ending! With one more second act, Abagnale joined the Advisory Board of World Wings International, the philanthropic organization of former Pan Am flight attendants, until 2020…

For more glitz from Pan Am stewardesses, watch the eponymous TV series "Pan Am" (2011), the best among a whole string of programs that only got made because "Catch Me If You Can" put the spotlight on luxury flight carriers and the jet-set lifestyle that went with them. Come fly with me…
IMDB page on Pan Am — Wikipedia page on the TV series Pan Am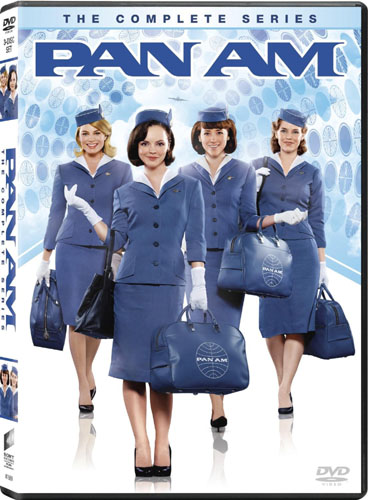 I guess another TV series can also be seen as "Catch Me If You Can" spin-off: in the 6-season police-procedural show "White Collar" (2009-2014), a slick former con man helps the F.B.I. catch white-collar criminals in exchange for a reduced sentence. And here too, the creators stuck with the color blue. The analogies end there: this series doesn't teach you anything on Abagnale!
IMDB page on White Collar — Wikipedia page on White Collar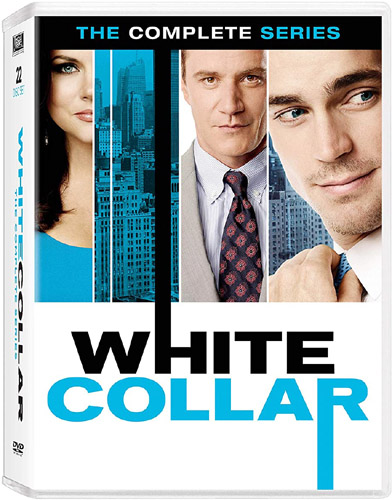 ---
Scene 17 (1:39:16-1:45:17): Come Fly with Me, Air America!
Back to the promo tour. One part of this Abagnale episode at the University of Arizona remained unknown until recently: Abagnale tried to recruit a pilot for Pan Am as well!
Enter Captain Paul J. Holsen II, who had been flying for Air America — a front company for the C.I.A., no less — in the 60s but was on leave at the University of Arizona at the wrong moment. The Dean asked him to meet Pan Am representative Abagnale for a pilot position. And so he became the only male to attend Abagnale's recruitment effort that day! The girls thought he wanted to become a purser, but he was interviewed by Abagnale for a half hour. When he called the Pan Am head office in New York three weeks later as agreed to fix a follow-up meeting, he was baffled to be referred to an F.B.I. agent from Tucson.
Zany, isn't it? A man who was both a C.I.A. agent (a spy if you will) and a professional pilot got tricked by the Skywayman as easily as average Joe. Not to worry, Holsen is a good sport: here he is, posing for the camera with Frank Abagnale who's all smiles… (Notice the Air America wings on his lapel.)